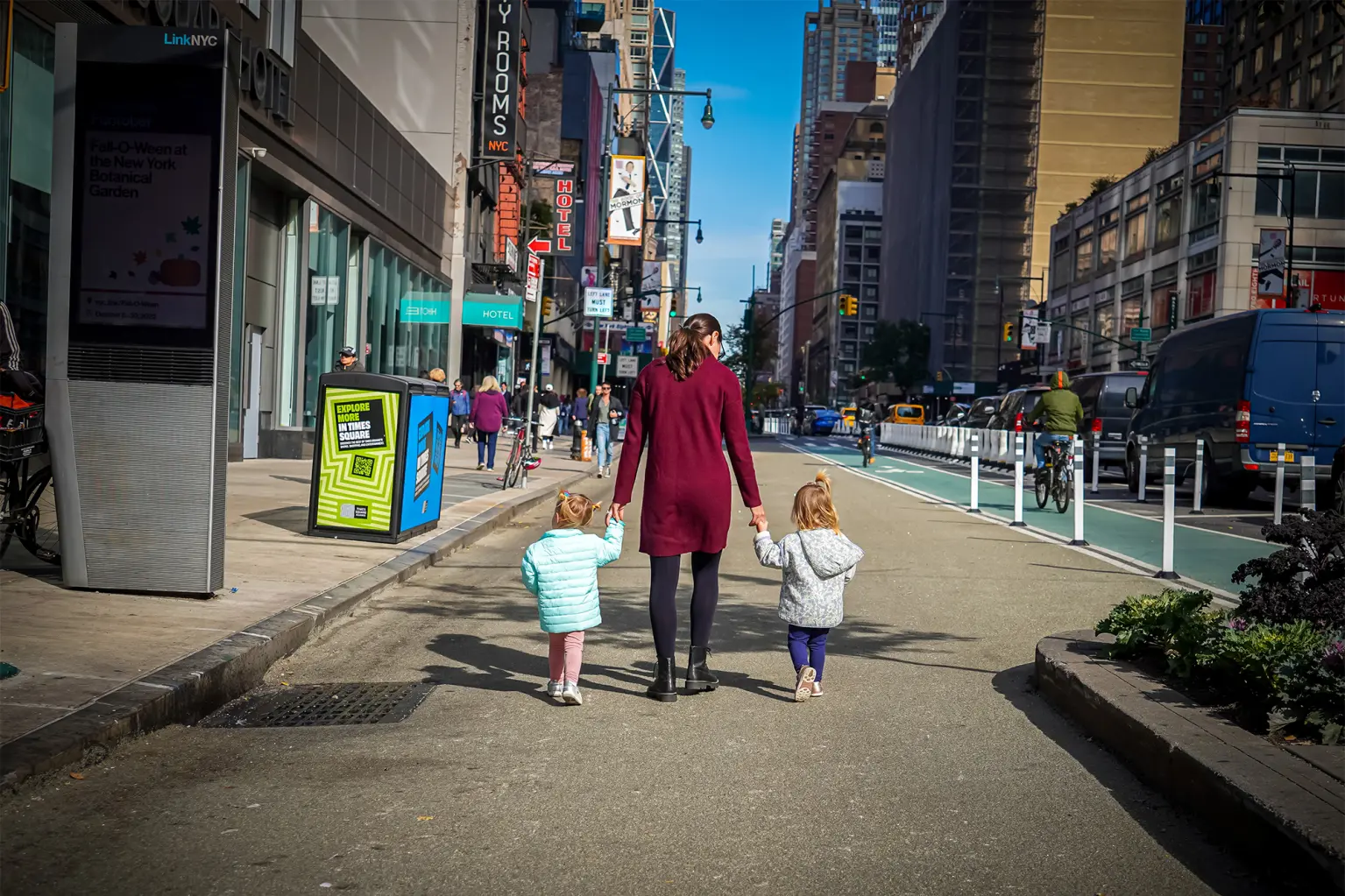 Last weekend Mayor Adams and DOT Commissioner Rodriguez inaugurated the sidewalk widening of 25 blocks of 8th Avenue and provision of 25 safe intersections, as an illustration of their efforts to make 1000 intersections safer in New York City – a goal they have exceeded.
This is a rewarding milestone for CHEKPEDS which has been advocating for safer intersections for the last 15 years. The high priority given to this program is a sign that our city finally recognizes pedestrian safety as a prerequisite to street equity. We were delighted to hear that the City will continue its push and is now working to make 1400 intersections safer.
You can listen to our comments on the press conference video at 15:31
As early as October 2011 , when the original protected bike lane was installed, Manhattan CB4 asked DOT to "Enlarge sidewalks on Eighth Avenue from W34th to W40th Streets and from 42nd to 48th Streets and remove all pedestrian barriers above 42nd Street". the same letter noted the many intersections that needed safety treatment.
CHEKPEDS started the process in 2016 by enrolling the help of Manahttan CB4, the adjacent property owners and Times Square Alliance to widen a single block between W42nd and W43rd Streets. By then, the situation was so bad that a cyclist was hospitalized after being knocked down by a pedestrian due to congestion. In 2017 the widening was in place as a prototype.
In 2018 the City started to study the segment between W38th and W43rd Streets, a tricky stretch which includes the Port Authority entrances and taxi stands. In spite of the challenges, DOT installed it in September 2019. The DOT's Pedestrian Unit then focused on the W31st to W38th street section to accommodate Penn station commuters, and completed this project in 2021. Finally this year, 2022 saw the completion of W43rd to W51st!
We are incredibly grateful to the DOT and their pedestrian unit, for this impressive accomplishment. Reclaiming of sidewalk space on 8th Avenue is the result of our close collaboration with them and Business Improvements Districts (Time Square Alliance, Garment District, 34th Street Partnership). We are also excited that 15 blocks of 9th Avenue are receiving the same treatment. Check it out