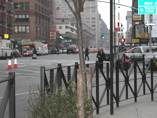 In 2003, pedestrians were dismayed to see DOT and the Port Authority erect a barricade blocking the crossing of Ramp C at  36th Street and 9th Avenue supposedly in the name of safety! It was essentially to improve traffic flow. This made it quite cumbersome to use the west sidewalk of 9th Avenue and forced the majority of pedestrians to the East sidewalk of the avenue , a path used by large volumes of Port Authority commuters. Indeed many pedestrians chose to ignore it and walked right in the roadway for a full block-length, putting their lives at risk. In this small act of disobedience they showed the agencies that one cannot cage pedestrians.
After years of study and cumulative traffic simulation within a radius of 20 blocks , DOT concluded that removing the barrier, installing a signaled pedestrian crossing would not degrade the traffic flow which at park hours moves at 3.5 miles an hour(!).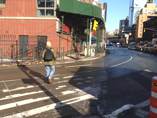 In November 2013 the despised barricade fell, making way to the walking public and what a gorgeous sight it is! We have reclaimed our freedom to walk on the west side with a protected crossing on top!