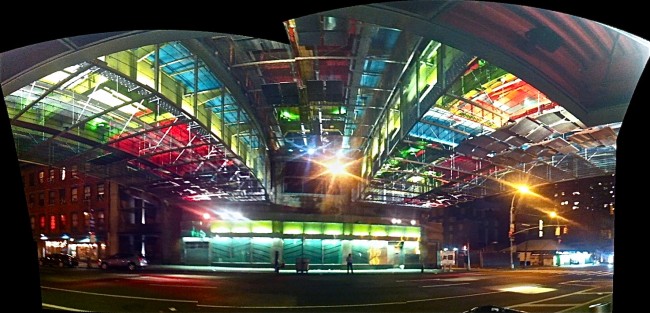 2013 saw the economy rebound and hopefully the circumstances of  many of our neighbors improved with it. At least when it comes to street improvements, they apply to ALL street users, no matter who they are, and we counted many successes this year:
On the ground:  cross town bike paths,  44th Street sidewalk safety for P.S. 51 students, wider sidewalk on 9th Avenue, pedestrian countdowns at most intersections, 40 trees planted on the new pedestrian refuges, a safer crossing at 9th Avenue/42nd Street with a lagging turn light and a new plaza "Dyer Triangle". ON the bus front, the number of commuter buses using 44th Street was reduced and Bolt Bus relocated to 11/12th Avenues as part of the new law requiring community board consultation for bus stops placement that became effective this summer.  We also ensured that no Bikeshare station was installedbenefitted from the citywide roll out of CitiBike.
Planning and Legislative : finally , the study phase of the 2007 Hell's Kitchen traffic study concluded in December and the DOT began the implementation phase of key safety recommendations (see below) as well as new plaza.
We also joined the successful efforts of other citywide groups to obtained speeding cameras from Albany and reduce the speed limit in residential neighborhoods.
Alas! even though four community boards sided with us, it was not enough to stop the city from changing the zoning to allow to transient users in accessory parking garages. We believe this will increase the number of spaces available to the public and encourage more driving.
Structurally: in Hell's  kitchen South,  the Hudson Yards/Hell's Kitchen Alliance, a new Business Improvement District (BID) that will be operational in July 2014 addresses  the perennial problem of capacity building and maintenance funding all our small organizations face. The BID will maintain and enhance the plazas, parks and street greenery, clean the sidewalks and improve the traffic below 42nd Street with permanent funding.
Finally , with a view to expand our action to Chelsea, CHEKPEDS' board now includes a number of Chelsea block representatives (list). From fighting for pedestrian and bike safety, to educating delivery bikes, and removing sidewalk impediments, our new board members are eager to help their neighbors in the new Year.
Amongst our many wishes for 2014, none is more important that the new Mayor putting serious resources behind his commitment to Vision Zero (zero traffic deaths). We are delighted with his hiring of Bill Bratton as NYPD commissioner, but we must remain vigilant that this program is given high priority.
We are so fortunate that our newly elected officials, Council Member Corey Johnson, Borough President Gale Brewer, Public Advocate Letitia James are all extremely supportive of our fight for safety. They join our existing officials (Assembly Members Dick Gottfried, Linda Rosenthal, State Senator Brad Hoylman and Congressman Jerry Nadler) who have been our best allies on this topic. With such a team, how could we not be hopeful? Happy New Year!