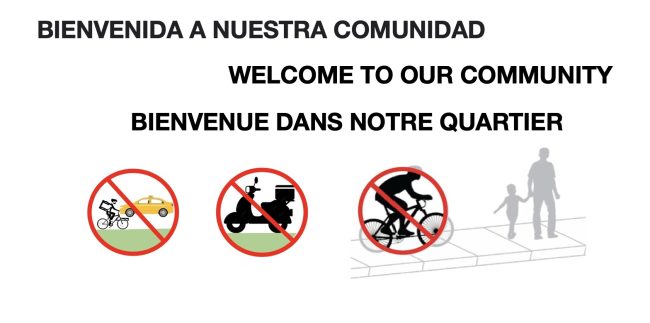 This Thursday, October 12th at 4pm at Balsley Park (W57th St & 9th Ave) we will join with Pedestrians for Bike Safety and Los Deliveristas to conduct outreach & education with cyclists in general and local delivery riders, whose services we greatly appreciate.  We will kick off with a brief press conference with our local elected officials before splitting into three groups to engage with delivery riders on 8th, 9th & 10th Avenues. 
Each group will be joined by Spanish-speakers who can assist in communicating with delivery riders and we have flyers in Spanish/English and French/English (for the West African delivery riders). Besides engaging with delivery riders directly, we will also distribute flyers to restaurants and delis that do deliveries so they can share with their riders as well. The flyers are also available for download so you can distribute them in your neighborhoods! Spanish/English – French/English
We are looking for 10-15 volunteers to join us in this action. If you are available to help out please reach us at excom@chekpeds.com.
If you are coming to show support but don't necessarily want to do the rider outreach, please let us know as well.