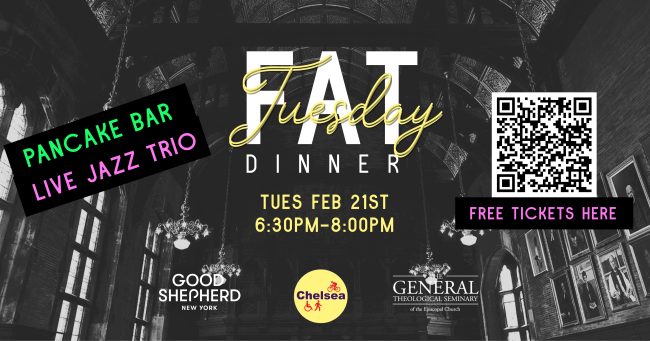 Good Shepherd New York has partnered with the Open Street West 21 and General Theological Seminary to host a simple Fat Tuesday Pancake Bar with a live Jazz trio. This free community, Mardi Gras event, bringing Epiphany to a close, and they 'd love for you to be a part of it.
As a catered pancake meal offered free to the community, we want to ensure enough food for those who plan to join.
The event starts at 6:30, and people can come and go until 8 pm. Pick up some Mardis Gras beads on West 21 St (between 9th – 10th Ave) and join the fun! We encourage people to come and go anytime between 6:30 and 8 pm.
The event occurs in Hoffman Hall on the West side of campus in the Desmond Tutu building.The entrance is on 21st Street halfway between Ninth and Tenth Avenues.
More information about our hosts:
Good Shepherd New York is an interdenominational, ecumenical church that meets weekly on the campus of General Theological Seminary and is a missional partner of GTS. You can find out more information about Good Shepherd on their website and at www.digitalchurch.nyc
General Theological Seminary is a historical Chelsea landmark established in 1817. This past May, GTS had its 200th graduating class. You can find out more about the history of the institution here.