Saturday morning, May 23rd,  three (3) more blocks will open in our district: W21st Street (9/10), W 22nd Street (7/8) in Chelsea and W51st Street (9/10) in Hell's Kitchen. These are in addition to the first four (4) blocks opened last Saturday in Chelsea with the Business Improvements Districts as partners.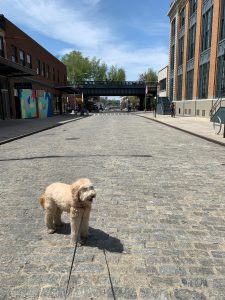 From a pedestrian (or a dog) standpoint, it is heaven: when you walk in the street without fear of incoming cars, you realize THERE IS SO MUCH SPACE!
Delighted residents of Fulton houses and neighbors were able to let children play and walked leisurely in the middle of the street to respect physical distancing. W 17th Street between (8 and 10) is now open to residents , as well as the Hudson Boulevard  from W35th to W36th Streets. https://youtu.be/Q5lYUgluykI
The City succeeded in making the program as simple as possible: NYPD delivers barricades and help install them at the entrance of the street. Only local traffic is allowed, for parking, deliveries and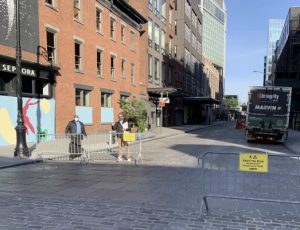 taxi drop offs provided they respect the 5 miles per hour speed limit. No traffic can go through except for emergency vehicles. Drivers' compliance has been very good. local partner  checks the barriers form time to time to ensure it has not been displaced. NYPD comes back in the evening to open the barrier. The hours are typically 8 a.m. to 8 p.m.
If you'd like to apply please click here. For a full list of open streets in the City check Here, Here, Here and Here 
Bravo to DOT and NYPD for doing this and doing it right!