Following a strong push by activists and other elected officials, and in face of Mayor DeBlasio opposition , Speaker Corey Johnson is taking the fight to the council, with a bill to open city streets to pedestrians and cyclists during the coronavirus/COVID-19 pandemic to allow New Yorkers more room for social distancing. The legislation, which has widespread Council support, will be introduced at the Council's April 22 Stated Meeting. There is hope of a veto proof majority, with 11 council members already on board.
The bill will require the city to allocate more street space to pedestrians and cyclists in neighborhoods throughout the five boroughs, with a citywide target of 75 miles of streets."New Yorkers don't have the street space they need to maintain proper social distancing, which we know is essential in this public health crisis. While we want to work collaboratively with the administration to open streets, this issue is so important and so urgent that we are taking legislative action to make it happen ourselves. Other cities across the country and around the world have demonstrated that this is doable. There is no reason we can't do this here" Says Corey Johnson.
Ideally such an initiative, will prompt Mayor de Blasio come to the table and rely upon other cities experiences in his decision making . In the recent NYC trial , each of the blocks on opened streets was manned by 8 policemen, which was not sustainable by design. In other cities like Oakland – where Raiders's fan reside ! –  there is  no police to enforce the shared streets, and it works fine .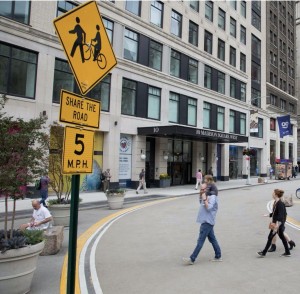 The #open streets would use the model of shared streets that is already implemented in NYC at Union Square. The street is open to pedestrians , but also to  local traffic, deliveries, emergency vehicles , fire, police etc, as long as they respect the 5 mph limitation . In this case , four cones, some tapes and two signs would be used as temporary barricades. NYPD would not need be involved.
Masks and distancing will be critical, but we can rely on our neighbors to want to survive and enforce best practice around them. That is already happening inside buildings.
With the confinement extended into the spring and no clear plan on how to return tonormal, helping pedestrians respect the 6 ft distancing rules and give them the opportunity to get some fresh air will be a welcome relief.