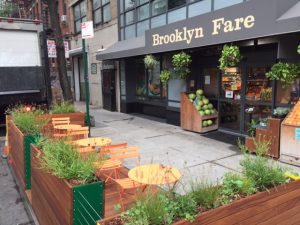 The Hudson Yards / Hell's Kitchen Alliance continues its steady stream of improvements in the District. Street Seats were installed on 37th Street between 9th and 10th Avenues. Such public seating is located in the parking lane and thus does not take any pedestrian space. It is funded by DOT but the business provides maintenance. With the beautiful background the Glass House building, the seats became immediately popular. A really terrific addition to the district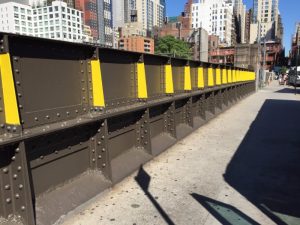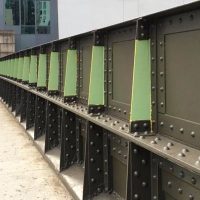 On W 37th Street,between 9 and 10th Avenues,  a number of volunteers painted the Port Authority bridges on August 2nd. Members of the Planning committee led by David Solnick selected background and Accent colors. Tishmann Volunteers did the heavy lifting .
Finally , Ascension, a 9-foot steel sculpture by local artist Jordan Baker-Caldwell, was installed on August 10th in the Canoe plaza at West 36th Street and Ninth Avenue.  This is a great representation of the Hell's Kitchen spirit.